Watching Facebook Live. Two men in a car.
Is this Comedians In Cars Getting Coffee?  I don't see Jerry Seinfeld.
So then Carpool Karoake? Nope, no singing. No James Corden.
Oh it's social-media-and-digital-guru Sree Sreenivasan and United Way's Director of Communications Neil Parekh reading The New York Times Sunday edition. Don't they know #NoReadingWhileDriving?
Neil Parekh (L) and Sree Sreenivasan (R) captured Live with comments from around the world.
Oh, luckily they are parked.  In a borrowed car.  Neil's sister let them borrow it got when it got too windy and cold to read outside. (They were originally sitting at an outdoor table at Tarallucci e Vino in New York City)
If a friend told me she was watching someone reading a newspaper I would tell her  "that sounds as exciting as Watching Print Dry."
But I tune in to watch.  Even though I get my own copy delivered every day to my porch.  I am a proud print subscriber – since 2006! 
One of Sree's missions is to #KeepPrintAlive. He is doing this is by hosting a Live readalong every Sunday morning #NYTReadAlong.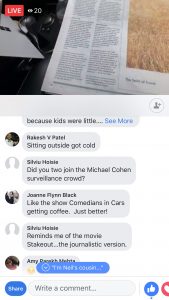 The New York Times on the dashboard of Neil's sister's car


Why is watching Sree read so intriguing?
He has a different read-along partner each week and we hear their Point of View on topics.
Sree's personal connections are so far reaching he says things such as, "while working with the Pulitzer team this week."
With no arrogance.  Just awesomeness.
The other folks who are watching from around the world post facts and opinions so you get a Global View/Global Reactions.
To join in the head to Facebook Live every Sunday morning 8:30AM-10AM Eastern – #NYTReadAlong
I have a #LifeGoal to get published in The New York Times. Although I know it's one of the toughest publications to get accepted, I currently have a few pitches out to editors there.
We always hear that it's important to visualize your success. Every morning when I get The New York Times out of The Blue Bag from my front porch I visualize the day that my name will be inside.
Now I will also visualize Sree reading it live!