Hosts from all over  New York state gathered in Albany at the State Capitol on Tuesday, March 6th, 2018.
The goal was to talk with legislators to share our stories of the positive way Airbnb has impacted us and our community.
The Press Conference was set on what's called "The Million Dollar Staircase" in the State Capitol building.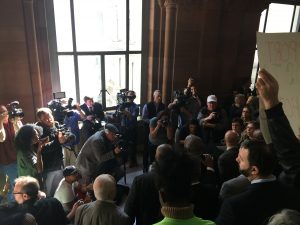 The Press was out in full force to report on this event. It started out as this powerful force of Airbnb hosts together to support our fellow hosts.
Actor and airbnb spokesperson Danny Glover was there to speak to share the powerful stories that he's heard about Airbnb and how it's helped people's lives.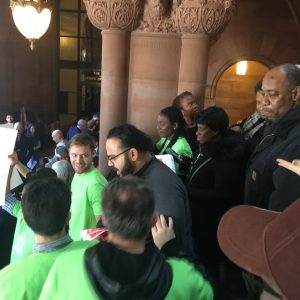 Then this man (picture on the left with dark hair, glasses and dark grey sweater) starting shouting at Danny Glover.  It turned out that this man was from the Hotel union who came to disrupt the conference.
As the security asked him to let Danny Glover speak, he yelled even louder and kept talking over Danny Glover.  It turned into lots of shouting with other hotel workers there.
I just happened to be standing on the same step as this man and was quite close to the action.
Luckily there was no pushing because this could have turned into something bigger.
Danny Glover got to talk over all of the shouting but it was impossible to hear him.
We had to clear off the staircase and all of the hosts walked back to a room.  Danny Glover joined us there. He talked about the stories he's heard from hosts such as:
Saving their homes from being taken away
Friendships that they have made with travelers from around the world
Supporting the community by recommending local restaurants and shops that may not have had these traveler's business if it wasn't for airbnb.
We didn't let the disruption ruin our day.
Hosts were split into groups according to their geographic area. We then got to meet our County representatives.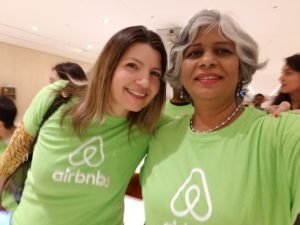 I got to meet many amazing hosts sharing our stories including DeVika.
When I shared this photo with people I knew they asked if we were long lost friends because we seemed so close.
We just met 15 minutes before and she snapped this shot while walking through the halls  We bonded instantly on what we share as Airbnb hosts.
That's the power of Community.
.